On Saturday the 2nd of July, Tony Taylor competed in the Sealskinz Wirral Ultra, here is his race report
An early alarm call of 5.00 am, meant it was time to start moving for my first venture into 'ultra running'. I had chosen to enter the 'Wirral Ultra', a 36 mile run, which follows the 'Wirral Circular Trail'. An essentially flat course running along promenades, through towns, on trail paths and disused railway lines, to me it seemed the ideal introduction to 'ultra running', and at £25 very reasonable.
I was first to arrive at WallaseyTown Hall, the start point for are race, there didn't appear much sign of life, the only hint I had made it to the right place were two 'gold events' flags, the organisers of our event. Sure enough a van soon appeared and a few bodies in race clothing, to my relief.
One of the first things I learnt about 'ultra running', it's well worth paying attention to your kit, from clothes to wear on the day, your bag/rucksack to carry your essentials, and lastly food and drink to take on your long run. I don't believe there's a single answer to all the above, and what's right for one person is different for another. As the forecast was good I opted to just wear my club vest and shorts, I had been advised road shoes would be fine, and finally I opted for a waist belt, with two small bottles of diluted orange juice and two pieces of cake. After collecting my race number and checking and rechecking I had everything, the 75 ultra runners were gathered together on Wallasey promenade and were sent on are way.
The first 10 miles were a pleasant run along the promenade passing New Brighton lighthouse, then on to Hoylake and it's lifeboat station and I felt okay in myself. From Hoylake we picked up the old disused railway line which took us onto West Kirkby and onto Parkgate. Navigation isn't my strong point and on a couple of occasions I took wrong turnings, fortunately 'ultra runners' are a helpful bunch, and I was shouted back and sent on the correct way, I decided staying close to a couple of other runners maybe a wise thing to do!
One of the key things in an ultra is to pace yourself, go out to hard and you'll pay for it. I was holding 8 min mile pace which felt comfortable. The course then went inland across the peninsula from Parkgate to Eastham, at the third checkpoint (22 miles) I was starting to struggle but made it onto the final checkpoint at (28.5 miles), just over 7 miles to go, it was going to be hard. Counting down the final few miles was tough going and my pace had dropped to 10 min/mile pace. And with a few miles to go I had to resort running with walking breaks, a common tactic for ultra runners. Seeing the Liverpool skyline was a relief, knowing I had just a couple of miles to go. Wallasey Town Hall appeared in the distance and I finished in 5 hrs 18 mins, and completely exhausted but a very creditable 7th place.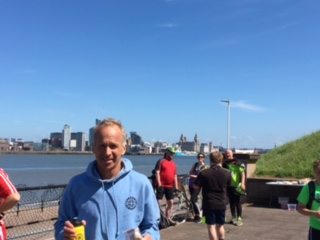 I enjoyed this ultra, there were lots of sights along the way to keep you interested and it's very flat which might not suit everyone, a lot of ultra runners apparently prefer hills which adds variety. 'Gold Events' made the event very friendly and it had a more homely feel than the larger commercial races, and at £25 it's very reasonable. My only criticism is that it would have been nice to have a memento (medal), to remember the day, but you can't have everything.
Tony